Khalil
Age: 45 years old
Interviewed in: Izmir, Turkey
Date: September 22, 2015
Name changed due to request for anonymity
Yarmouk, Syria
Izmir, Turkey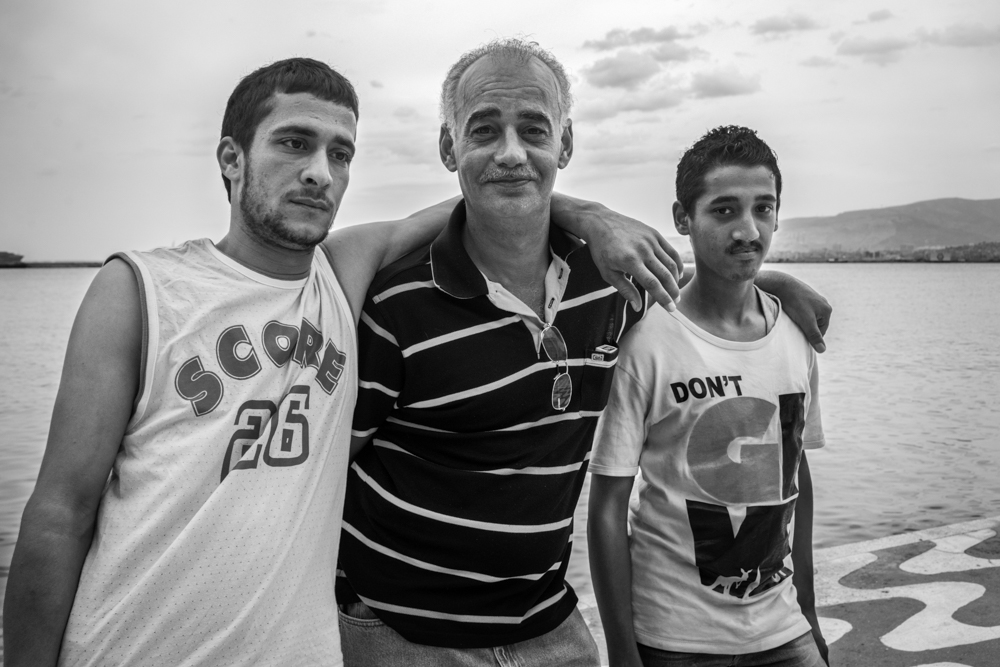 I arrived to Turkey last month after several attempts to leave Syria. We tried first to cross from Aleppo [Ezez] and the Turkish police shot at us. Owe were able to cross on the third attempt. We made it.
Why did you leave? How was your last month in Syria?
Two years ago, I left el Mukeyem, Yarmouk [the Palestinian area in Damascus] to live in Jaramana, to live with my brother. Yarmouk has been under siege for the past two years. Nothing can come in: food, medical supplies, nothing. The people there are forced to buy basic goods from nearby cities, at inflated prizes. The NGOs that pretend to be working for Yarmouk are not doing anything. Even if they were able to supply them with materials, that would not be enough. There is no water, no electricity, and no medicine. Some people are able to live there, about 5000 people. This is what's left from the 250,000 people who once lived there.
For those families who stayed inside, we can say that half of the family members are living outside of Yarmouk. The families are divided now. For example, my wife left me to live with her parents, and I have a daughter in Sweden, and a daughter in Lebanon. So the past three years I spent them by myself. In the end I moved in with my brother and his family.
What is the situation like in Jaramana? Did you have any trouble crossing the checkpoints since you have the word Palestinian in your ID?
Other people did get stopped, but for me because I'm older, it was rare. In terms of other things, like the electricity for example, it comes three hours a day and the Internet is really bad. The people there are not stable, they know that the situation, even if there is no bombing in their area, it is not safe. No one is happy in Syria. One of the main reasons for people's unhappiness and uncertainty is the prices. Groceries for example have increased six-fold since 2011. One kilo of tomatoes was 20 liras, now its 120 liras. The chicken was 250, and now its 1700. The income is still the same. Can you imagine that some families are only able to eat meat once a month? Their main meals consist of potatoes and burgul. For rent, you could rent a house in Jaramana for 6000 lira, now its 50,000.
Can you tell me more about your own life?
It doesn't matter. I don't want to go into details about my own life.
Why did you decide to go to Europe?
My family book [a small genealogical book from the government issued to Palestinians called "the white book"], my passport, and my ID.
That's it?
I seriously reached this point where I felt I couldn't breathe anymore, I just wanted to leave.
Do you have grandchildren?
My daughter just got married in Lebanon and she doesn't have children yet. I'm only 45, I'm not that old.
If your daughter had a child, what are you going to tell her about Syria?
No comment.
What will you remember about Syria after 10 years?
I'm only a Palestinian who lived in Syria, and I adore Syria. I adore Old Damascus. I love Yarmouk. I love everything about Damascus, especially the Old Town. I love the land and I love the people, even the water. Period. And I'm leaving to Europe not because I love Europe. Period.
What would have to change in Syria in order to go back?
I wish Syria would go back to how it was in 2009.
What are you going to miss the most about Damascus? Is there any image in your mind you remembered as you crossed to Turkey?
The shore in Latakia. The sea. And the old streets of Damascus. Damascus in general. Yarmouk. My mom died in Yarmouk and I wasn't able to go and see her. And my brother after four months also died in Yarmouk and I couldn't go and see him. My sister, my sister's husband, and her children are still in Yarmouk, and she's not able to go and see them.
If you were able to change anything before 2011, what would you change? Do you regret anything you didn't do in Damascus?
I don't regret anything. I'm leaving this country and I know that I did my best. My job for example, I know that I gave my best. That's why I'm leaving and I'm not going to turn back.