Esraa
Interviewed in: Izmir, Turkey
Date: September 20, 2015
Set Zeynab, Syria
Izmir, Turkey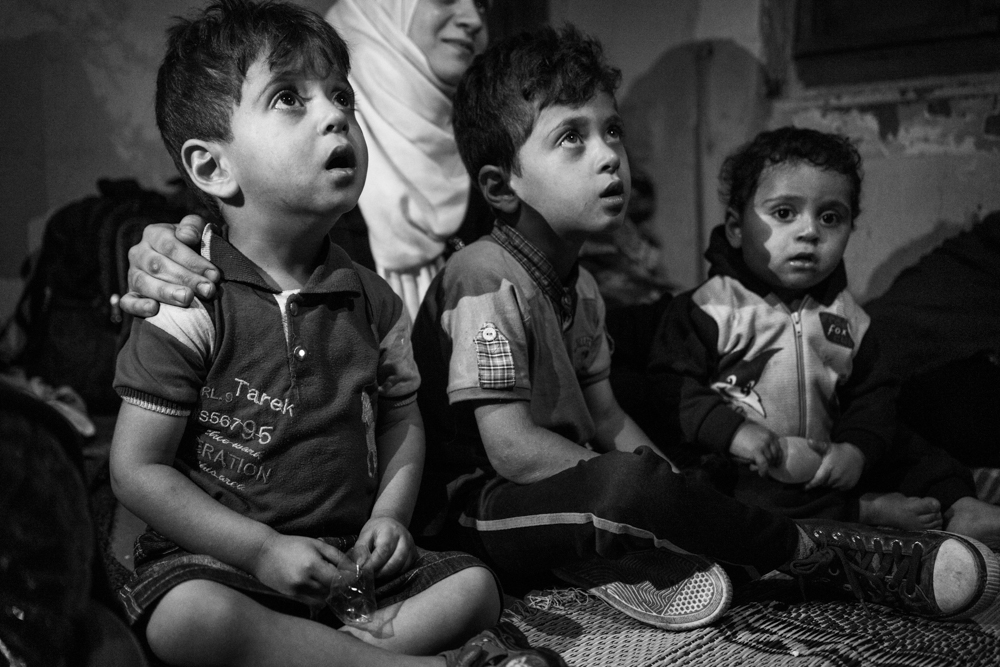 We left Set Zeynab a year and a half ago, and now, god-willing, we are going to Germany.
Why did you decide to leave?
The situation started to get really bad. The worst thing is the checkpoints and how they started to take everyone to the military service. They don't distinguish between a single person and a married person with a family. They don't care whether the man has five children and is working to take care of them. They are taking everyone. We thought we should leave before anything bad happened to us. They took my cousin and my brother-in-law to the military service. They took my father-in-law who is 67 years old. We don't know whether they took him to the military service or if they detained him. We just know that he's gone, that they took him. My sons, Ibrahim, Seraj, and Habibuallah, they mean the world to me.
What are you going to tell them about Syria when they grow up?
I wont say anything to them. I'm not going to mention Syria at all. What is there left in Syria now to be remembered other than the killing and the bombing and the shelling? Nothing good to be remembered. I will tell them maybe about Syria before the war, and I hope one day we will be able to return. We will return.
Aren't your worried about their safety crossing the sea?
Yes, sure. We were supposed to leave last month, but I was not able to make the decision, especially after all the pictures that we saw of the drowned kids. But we reached this point where we couldn't take it anymore and we decided to take the risk. We have nothing to lose.
If God has willed that we will die, we will die. Nothing happens against God's will.
What would have to change in Syria, in your opinion, to make it a good place for your children in the future?
I would change the hearts of the people because everyone hates everyone else. That is how we reached this point. The people no longer love each other.
How did you leave Syria? What was the situation on the borders?
The first time we tried to cross the borders it was eleven in the morning, and the road was so hard I remember an old lady who broke her ankle.
Which road did you use?
Khrbet al Joz. The first time, the Turkish police caught us, put us in an open cage in the sun without any water and then they forced us to walk back to Syria. The next time we tried in the evening. We took a very dangerous road. We were next to a cliff. The road was very dangerous and tricky, and I was forced to drop all the baggage I was carrying with me. I brought winter clothing for my children and I had to drop it all. Many people in our group disappeared. An old man fell, I don't know if they rescued him or not. But I know that many people got lost on this road during the trip. At some point the Turkish police noticed us moving so we had to sleep hiding in the grass from 11 pm to 2 am. But the whole trip took from 8 pm to 5 am. And thank God I didn't lose any of my children.